FM Encite

FM Encite series includes polyolefin film, polyolefin back sheet and other products.
---
FM Encite high heat resistant polyolefin back sheet is made of high quality polyolefin resin as the main raw material, through the independent design and development of multi-layer co-extrusion technology . This product has excellent resistance to Damp&Heat aging performance, excellent toughness (room temperature and low temperature), high water vapor barrier performance, excellent weather aging resistance, and good adhesion with EVA&POE film. Compared to the common FPO2110, this model significantly improves its heat resistance, has the ability to resist spots, and prevents possible cracking of the polyolefin back plate at the weld strip opening. The heat-resistant polyolefin backplane can fully meet the requirements of the use of solar modules.

Product application
Dedicated to the back encapsulation of PV modules,provide long-term outdoor protection for PV modules.
Product specifications (can be customized according to customer requirements)
Length:200m or above
Width:500~1,000mm
Thickness:330μm
Product Features
* Greatly improved heat resistance, through the heat spot test * Heat shrinkage, 180℃/30min ≤0.5% (the highest level in the industry)
* Low WVTR,0.1-0.5g/㎡·day * High reflectivity,≥85%
Product model list
| | | | | |
| --- | --- | --- | --- | --- |
| MODEL | COLOR | THICKNESSS(μm) | SYSTEM VOLTAGE | REMARKS |
| FPO2110-HT | WHITE | 330 | 1500 V | Heat resistant type |
| FPO2110-HTS | WHITE | 330 | 1000 V | Heat resistant、semi-stiffness |
Product heat shrinkage test example (180 ℃ /30min heat treatment, thermal shrinkage ≤0~2%)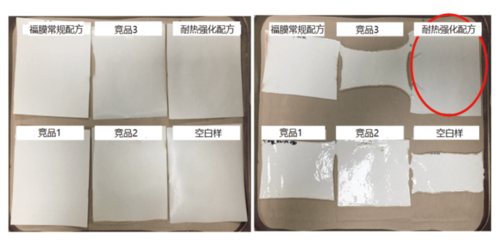 Application areas:Thin-film Cell Module | Crystalline Silicon Solar Module‍ | Integrated Wall, Closet‍